The 2017 Nebraska Leadership Summit was held on March 2, 2017 at the Holiday Inn & Convention Center in Kearney, NE.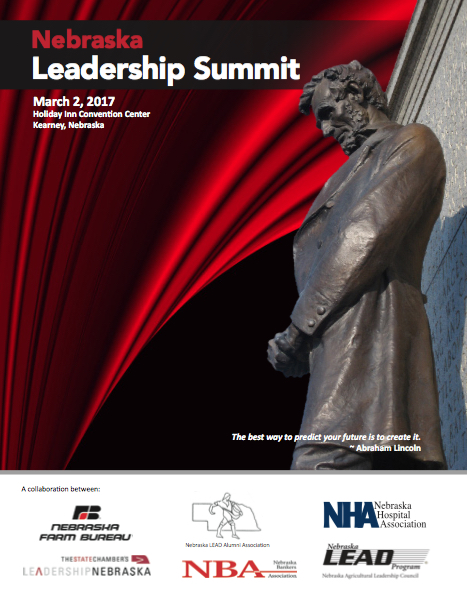 AGENDA Nebraska Leadership Summit
Thursday, March 2, 2017
8:30 a.m. Registration
9:00 a.m. Alumni from each program meet with their respective groups
11:00 a.m. Opening Remarks Richard Baier, President & CEO – Nebraska Bankers Association
11:15 a.m. Leadership and the Local Economy
Dell Gines, Senior Community Development Advisor, Federal Reserve Bank of Kansas City – Omaha Branch
Rural communities, specifically small rural communities have struggled to retain and grow local population and build their local economies. New models of economic development are emerging to address this issue. However, these models, which prioritize local business creation and growth, require an all hands on deck approach from local leadership. This presentation will discuss these models of economic development and why leaders from all sectors in small communities are needed to make these models effective and grow rural communities.
12:15 p.m. Lunch & Presentation Lunch sponsored by:
Paul Eurek, CEO – Xpanxion LLC
Paul Eurek will share his insights on the digital transformation of Nebraska companies and the roller coaster ride of starting, operating and successfully developing an exit for shareholders.
1:30 p.m. Building Blocks to Success
Josh Erickson, Team Concepts
Relationships are the building blocks to success. This session will help you meet conference attendees who are leaders across the state in business, banking, healthcare, agriculture and their communities who can assist you on your leadership journey.
2:15 p.m. Break
2:30 p.m. What Great Leaders Do
Rory Rowland, President & Founder – Rowland Consulting
Leadership expert and author Rory Rowland will show you how the best leaders earn undying trust and respect from their people. Through hundreds of interviews with employees and years of leadership training, he's discovered the secrets to why employees feel loyal to their employer and how managers can increase this commitment. He'll share proven leadership behaviors from top organizations and show you how to apply them with your team.
Among the topics he'll discuss: How the best leaders in the country earn employee loyalty; What the ultimate goal of any leader or manager should be; Why you must "sell the vision" to your employees; Why coaching is so important and how to do it right; and How to improve communication and trust in your organization.
3:30 p.m. Why Wait?
Rob Quillen, Inspiration Speaker & Author
Rob Quillen's message is a very positive lesson that he learned from the tragic events of 9-11. Rob talks about how a series of coincidences led him to be sitting next to a perfect stranger on September 10, 2001 on a flight to Newark, NJ, that neither individual was supposed to be on. This lead to a conversation, one in which the stranger told Rob a dream that he had for his 15-year-old son. The stranger that was sitting next to Rob on the flight was Jason Dahl, who was the pilot of Flight 93 that crashed into the field in Shanksville, PA, during the terrorists attacks the very next day.
Quillen outlines how to make someone's dream come true, and he challenges each and every one in the crowd to think of one person in their life and set out to make their dream come true before it's too late.
4:30 p.m. Adjourn
What People are Saying…
I really enjoyed hearing from Paul Eurek. He has been in the software industry for 30 years and has adapted to the technology and people. He shared with us the businesses he has built and sold over the years and his grading system he used to grade himself as he went along. Not too many speakers show their failures that lead up to the successes, I appreciated that.

Another thing I picked up from the day is that no matter what industry you are in,successful leadership makes the organization run efficiently. Lastly Rob Quillen's 911 story with "Why Wait". We all have dreams, let's help our loved ones fulfill them now – Why Wait!

– Dan McKeon- Lead 13


This is by far the best conference I have attended in a long time.  The line-up of speakers was outstanding, as each went beyond the usual leadership development themes and focused in on specific issues and recommendations relevant to all in attendance.  As a community leader, the presentation on Leadership and the Local Economy by Dell Gines opened my eyes to different models of economic development, rather than the traditional attraction and incentive based model, especially in relationship to rural communities.

– Deb VanMatre, LEAD 24


I absolutely loved the accommodations and meeting areas, but one of the best things of that summit was the networking opportunities.  I consider most every farmer and agribusiness professional a small business owner, and in that regard, an entrepreneur.  This summit might have been called a Leadership Summit, and it was, but it was definitely geared towards all of us as entrepreneurs and building our communities and local and state business economies.  A personal example for me was running into a banker who was a former market president of a major bank in eastern Nebraska and now is CEO of a company that puts deals together for businesses and individuals, and that contact alone was worth the price of admission.  I can't stress enough the importance of networking and mentoring others, and this conference showed how important those two things can be and are intertwined. In fact, I would say that out of the 6-8 conferences and continuing education seminars I attend every year, this conference would land in the top two.

– Ward Reesman lead 28
The Leadership Summit "stoked my fire" with very pertinent information that may not align with my personal biases, but were factual, real world.  Solid information and networking are two very essential ingredients to the "toolbox" for effective leadership. — Gerald Clausen LEAD I
Click here to download the 2017 NE Leadership Summit Program (PDF) »